South Korea goes wild as Pyeongchang wins bid to host 2018 Winter Olympics [VIDEO]
The International Olympic Committee's selection of Pyeongchang, South Korea means the 2018 Winter Olympics will be held in Asia for the first time since the 1998 Games took place in Nagano, Japan.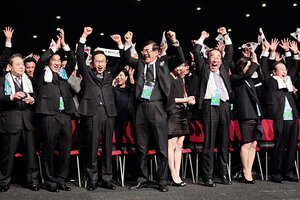 Jerome Delay/AP
When the word "Pyeongchang" flashed on the enormous television screen that filled a wall in the central square, the crowd burst into a cocphony of singing, cheering, dancing, and hugging.
For this town in the middle of South Korea's snow country, the choice of Pyeongcheong as the central venue for the 2018 Winter Olympics represents not only a triumph for Korea but for the individuals who live here in the shadows of the peaks and valleys where Olympic athletes will be competing nearly seven years from now.
It was like midnight on New Year's Eve here, locals say, only louder and more intense.
"I am so excited, we will make Pyeongchang a number one city," says Shim Seong-ho, a local government worker, breathless and hoarse after leading the throng in six hours of sloganeering, deafening music, and song-and-dance numbers.
A town celebrates
The crowd was a cross-section of the town – office workers and day laborers, students and retirees, families with kids – and the sense of camaraderie was universal.
The local government made the occasion one huge blast with snacks simmering on frying pans and more than enough sweet bean cake for everyone. As the evening wore on, confidence grew that Korea, barely defeated in bids for the last two Winter Olympics, would make it this time.
A nation obsesses
The drive to bring the 2018 Winter Olympics to Pyeongchang became a national obsession, a point of pride for a country and a society that came of age hosting the 1988 Seoul Olympics and proved it again by co-hosting the 2002 World Cup soccer finals. What better way to prove Korea was up there with the world's most powerful countries than to win the bid for the 2018 Winter Olympics against two of Europe's strongest winter sports nations, Germany and France?
---