Japan's tsunami recovery stalls
Rigid bureaucracy, the scope of devastation, and a lack of financing are hindering Japan's comeback from the March earthquake and subsequent tsunami. Some citizens are taking recovery into their own hands.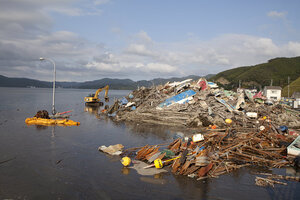 Melanie Stetson Freeman/Staff
Hisashi Takamatsu reaches into a hole in the rubble-strewn ground outside his idled fish-packing plant and turns a valve. Nothing happens, but he does not seem surprised.
Still no water.
Nor is there yet any electricity in the "Fish Town" district of this port city. Nor does Mr. Takamatsu have any clear news from the government about how much compensation he might get for everything he lost when a tsunami wrecked all his machinery on March 11.
"I know nothing about my future," he says bleakly.
Around the corner, Kazuko Kobayashi is visiting her former home, picking through water-stained photos in the albums she has rescued. Outside, soldiers clear debris – still searching for and sometimes finding corpses. The stench of rotted fish hangs in the air. Only the cawing of carrion crows breaks the silence of the abandoned streets.
Three months after Japan's largest-ever earthquake and a devastating tsunami hit the northeastern coast, most local residents still seem in limbo. Political wrangling and bureaucracy in Tokyo have compounded the massive scale of the twin disasters to make recovery frustratingly slow, say politicians and citizens here.
"On a recovery scale of zero to 10, some parts of Ishinomaki are at zero and some are at one," says the city's mayor, Hiroshi Kameyama. "Nowhere is better than that."
Across the disaster-hit region nearly 100,000 people are still sleeping on the floor in gymnasiums, schools, and community centers. Only half of the 52,000 temporary homes that the government requested have been built. Businesses starved of funds by the lack of a government aid budget – held up in a fractious parliament – are paralyzed. Unemployment rates here have soared to four times the national average.
---