China's Three Gorges project: A huge dam with big troubles
After years of denials, China admits its Three Gorges project is destabilizing land around the 400-mile-long reservoir, prompting calls for more costly resettlements.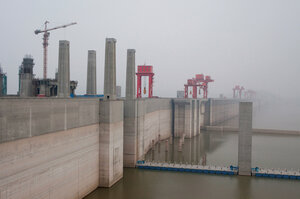 Melanie Stetson Freeman/Staff
At first sight, the view from Xiang Yue's house is idyllic: Her windows look out across the blue-green waters of the Yangtze River to mountainsides clad in groves of orange trees.
To Mrs. Xiang's eyes, though, the landscape is full of hidden dangers, and the landslides that scar the hillsides are constant reminders of the threat to her home, 40 miles upstream from the Three Gorges Dam. "The house is solid, but we can't control the soil underneath," she says.
Xiang is one of 1.3 million people who were forced to move when the reservoir behind the Three Gorges Dam, a showpiece of Chinese engineering, flooded their old homes and land.
Now, like hundreds of thousands of other farmers who were relocated to higher ground, she will have to move again, a victim of potentially disastrous environmental problems that the dam has caused.
For years the Chinese government refused to acknowledge any dark side to its proudest engineering feat, the largest hydropower project in the world that is also designed to prevent the sort of catastrophic floods that have stricken millions of farmers in the Yangtze Basin for millenniums. Begun in 1994, it opened in 2008.
Two months ago, however, the State Council, China's cabinet, recognized that the dam had caused "urgent problems … regarding the smooth relocation of residents, ecological protection, and geological disaster prevention."
That admission marked "a very significant change in attitude in China toward more openness," says Lars Skov Andersen, a hydrologist working on a European Union-funded project to rehabilitate the Yangtze River watershed. "The Three Gorges project was not adequately prepared, so now it has to be repaired," he says.
---