Portrait of a North Korean propagandist turned protest artist
Before fleeing North Korea, Song Byeok was a propaganda artist, creating portraits of 'Dear Leader' Kim Jong-il. Now he uses his art to criticize the regime from South Korea.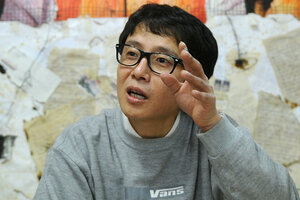 Park Ji-Hwan/AFP/Getty Images/Newscom
For Song Byeok, as for many North Koreans, getting out of his homeland came at a steep price.
The soft-spoken artist decided to leave in 2000 to find food, as famine ravaged large parts of the country. During his initial attempt to cross the Tumen River into China to find and bring back food, Mr. Song watched as his father was washed away in the surging waters.
"I was about halfway across the river when the rope grew slack," he says in a recent interview. "My father told me three times to go and leave him and then disappeared underwater."
Mr. Song dragged himself ashore and begged for help from a group of North Korean border guards. "They refused, saying, 'Why have you survived? You should die also,' and they beat me up," he says.
He spent seven months in a North Korean prison camp, where he lost a finger to frostbite and became disillusioned with the regime. After Song was amnestied, he successfully sneaked into China. A year later, after securing a secret passage to South Korea, he arrived in Seoul.
Song is just one of the estimated tens of thousands of starving or disillusioned North Koreans who have fled the country since the mid-1990s, when a collapse of the country's food distribution systems coincided with a devastating famine.
Propaganda artist
---