After China train crash, it's not just rail safety that worries Chinese
Last week's China train crash, which killed some 40 people, has reinforced a sense of unease with the pace of the nation's development.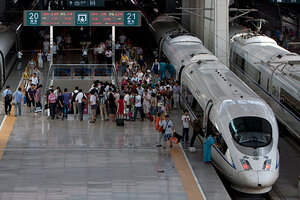 Andy Wong/AP
The chat aboard China's G21 bullet train began with talk about the recent crash of two high-speed trains that killed at least 40 people in eastern China, but soon the bureaucrat in a pink polo shirt was discussing the Chinese government.
"I think the government emphasizes visible things: When they build a new city, the city looks amazing, but when there's a storm, there are problems with flooding," said the man, whose surname is Wang but whose first name is being withheld to avoid getting him in trouble. "The city is visible, but the sewage system is not."
Was he nervous, then, about being on the bullet train from Beijing to Shanghai? Mr. Wang, who works at a government finance department, gave it a moment's thought and answered that the "accident horrified people, but they don't have a better choice than the train."
More than anything, the aftermath of the high-speed train wreck last month in Zhejiang province has come to underline the fact that for all of China's enormous economic growth, the nation is still overseen by an opaque, authoritarian regime frequently plagued by corruption. It's a system that relies in large part on the promise of material progress for its people, with the threat of heavy-handed tactics for those who step out of line.
During the past nine days, that approach has seemed especially off-balance.
---