Japan gets another prime minister: Can he stop the revolving door leadership? (VIDEO)
Finance Minister Yoshihiko Noda won the Democratic Party of Japan (DPJ) presidency Monday and will replace Naoto Kan as prime minister. The aftermath of the tsunami and earthquake will test his leadership.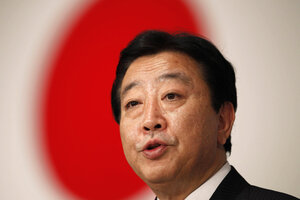 Yuriko Nakao/Reuters
Yoshihiko Noda is slated to become Japan's sixth prime minister in five years after the resignation of the unpopular Naoto Kan on Friday. But Mr. Noda's emphasis on collaboration is offering some hope that he will be able to slow his country's revolving-door leadership, despite a host of daunting challenges at home and abroad.
The former finance minister in the government of Mr. Kan, who resigned after just 450 days in office, confronts major tests in the aftermath of March's triple disasters, a deeply divided party, and a strong currency that is making exports even more expensive in a stuttering global economy. He also faces potentially strained relations with Japan's closest neighbors and an unforgiving electorate and media at home.
Still, some observers are cautiously optimistic.
"He seems to treasure harmony, unlike Kan and Hatoyama [Kan's predecessor], so he may last a little longer if he looks for cooperation with the opposition parties," says Takashi Koyama, professor of politics at Akita International University.
Noda defeated trade and industry minister Banri Kaieda in a second round run-off by 215 votes to 177 in a ballot of Democratic Party of Japan (DPJ) lawmakers and is expected to be sworn in on Tuesday. Five candidates ran in the first round though nobody achieved an overall majority. Seiji Maehara, by far the most popular of the five with the public, was eliminated in the first round.
---