Typhoon Nanmadol meets a well-prepared Taiwan (VIDEO)
Typhoon Nanmadol struck Taiwan Monday. The island, chastened by poor response to a 2009 typhoon, has strengthened infrastructure and improved evacuation and preparation measures.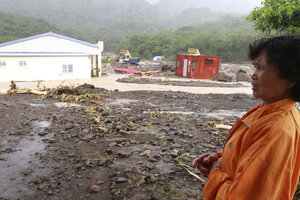 Reuters
Even as America's East Coast was struggling to get trains back on track and planes in the air after hurricane Irene, Taiwan's east coast – 12 time zones away in the western Pacific – was heading to work after its own major typhoon, underscoring the strides the island has made in habitual, meticulous preparations for annual storms.
Typhoon Nanmadol, which struck Monday, brought wind gusts of up to 137 kph (85 m.p.h.) and rainfall of more than two feet in the mountains. But during the workday, cars swarmed through the capital Taipei for the usual rush hour, coffee shops filled with students on their final days of summer break, and hotel conference centers buzzed with corporate press conferences.
"Through [Typhoon] Morakot two years ago and some heavy storms last year, we've been rigorously tested, and since the land warnings were issued this year, we focused more on the typhoon's strength and scale to make the right preparations," says Chung Chia-bin, vice magistrate of Pingtung county in southern Taiwan.
"Also since then, lots of infrastructure has been strengthened, for example roads and bridges, so these largely avoided disaster," he adds.
---