Muslim insurgency in Thailand's restive south heats up
The Muslim separatist attacks that have racked southern Thailand since 2004 grind on amid a cooling of autonomy talk in Bangkok.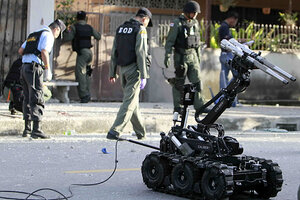 Surapan Boonthanom/Reuters
Here in southern Thailand, the Muslim insurgents seem to be committing more gruesome acts of violence, putting a spotlight on one of Asia's most opaque conflicts.
Separatists have been mounting attacks in this jungle-covered region, near the Malaysian border, since 2004, killing more than 4,700 people. During the past six months, attacks have been "better planned and targeted, more sophisticated, and professional than earlier in the conflict," says Anthony Davis, a Thailand-based analyst at global security consulting firm IHS-Jane's.
But now insurgents are increasingly using IEDs, and have stepped up the type of violence. Buddhist monks are beheaded. Schools, the symbols of the Buddhist Thai state, are burned down. Drive-by shootings leave teachers and rubber tappers dead. Car bombs kill soldiers and bystanders. Davis notes that all of 2010 saw three car bomb attacks in the deep south, but since January there have been six such attacks.
"The fact is there is a war going on and it appears to be getting increasingly vicious and intense," says Davis.
The violence is believed to be perpetrated by a small group of hard-core insurgent operatives, some of whom claim to be battling for greater autonomy from the Thai state. But these shadowy groups rarely claim responsibility for their attacks, and the movement seems to lack a coherent political front –or even, perhaps, a common goal. Many local Muslims, in fact, say they do not support the groups' supposed separatist aims.
---