Six months after New Zealand quake, Christchurch's ability to rebuild in doubt
More than 4,000 aftershocks have hit Christchurch since one of New Zealand's worst earthquakes, hindering recovery and causing many locals to consider leaving for good.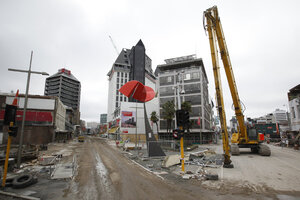 Alastair Grant/AP
Christchurch, New Zealand
When a strong aftershock struck the New Zealand city of Christchurch one night last week, Leanne Curtis awoke with a fright. She could not go back to sleep, and nor could her 8-year-old son, Louie. In fact, the next day, few children showed up at school.
The South Island city, which was devastated by a 6.3-magnitude earthquake in February, is a jittery place. More than 4,000 aftershocks have rattled it since that quake killed 181 people and destroyed tens of thousands of homes as well as much of the city center. The total cost of recovery is estimated at $12.5 billion.
"You can never relax," says Ms. Curtis. "Everyone is on edge, and the aftershocks play with your head."
New Zealand's second-most populated city and a popular tourist destination has lived through three big quakes in the past year. Its inhabitants have just marked the anniversary of the first, which caused widespread damage but claimed no lives last September. Then came the deadly temblor six months ago, which was one of the most destructive in the country's history. And in mid-June a third quake toppled more buildings, further panicking residents.
The frequent aftershocks are hindering Christchurch's recovery, with locals wondering whether to stay or go and businesses nervous about reinvesting. "It has slowed things down, because it makes people more cautious," says Roger Sutton, chief executive of the Canterbury Earthquake Recovery Authority, a government agency overseeing the reconstruction effort.
---