Six months after Japan's tsunami, residents worry their plight is fading from view (video)
Many residents in Japan's northeast are struggling to put their lives back together six months after Japan's March 11 earthquake and tsunami. More than 80,000 people remain in temporary housing.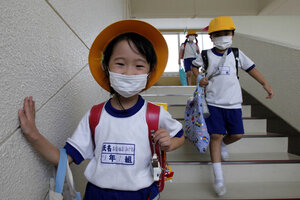 Kim Kyung-Hoon/Reuters
As memorial services were held across the northeast coastal regions to mark six months since the March 11 earthquake and tsunami, recovery from the vast disaster is proving to be painfully slow in many places.
Some of the worst-hit towns still resemble wasteland. More than 80,000 people remain in temporary accommodation. The nuclear crisis at Fukushima triggered by the tsunami is ongoing, and the new industry minister resigned over the weekend after making disparaging comments about the city.
"We pray for the lost lives and for the missing to be found as early as possible. We hope that people can return to this town and we can hear cheerful voices again," said Jin Sato, the mayor of Minami-Sanriku at a service attended by more than 2,200 in the town's Bayside Arena. His voice faltered as he spoke about the many friends and colleagues lost on March 11.
Mr. Sato had been in the town hall along with 130 staff when the tsunami struck. He was one of only 10 survivors when the 50-ft. waves came across the roof of the building and washed away 20 of the 30 people who had made it that far.
Most of the residents of the town returned for the service from other areas, as Minami-Sanriku remains largely uninhabitable. Thousands of tons of debris were piled into mountains of wood, earth, metal, and concrete along the waterfront.
A boat rests on the second floor of the former city hospital, facing away from the sea, where the tsunami deposited it as the huge wave pulled back to where it came from after obliterating 95 percent of the town.
Recognizing sacrifices
---