China's great space station leap
China has successfully launched the first component to build its own space station, indicating that it is closing the gap with the big space powers such as the US and Russia.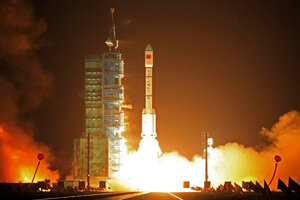 Xinhua, Wang Jianmin/AP
China launched an experimental space lab into orbit Thursday night, successfully installing the first building block in its planned space station and underscoring its progress in space technology.
The "Tiangong 1," which means "Heavenly Palace 1," was lofted into the heavens from a launchpad in the Gobi desert and will now be readied to dock with another unmanned craft next month.
If that docking – and a subsequent manned trip to Tiangong – go well, "we will have laid solid foundations to build our own space station," due for construction by 2022, says Jiao Weixin, a space scientist at Peking University.
China would be only the third nation to have mastered space docking technology, after Russia and America. It became the third country to put a man in space by its own efforts in 2003.
Beijing is still, however, many years behind US and other industrialized nations who are partners in the International Space Station, in which China does not participate, says Isabelle Sourbes-Verger, an expert on the Chinese space program at the French National Center for Scientific Research in Paris.
Six astronauts can live indefinitely on the 400-ton ISS, whereas two Chinese "taikonauts" will be able to spend only a week or so on the cramped eight ton Tiangong, testing its life support systems, according to Professor Jiao.
---