Thailand floods: Water seeps into heart of Bangkok, barriers may not hold
Thailand Prime Minister Yingluck Shinawatra broke from earlier assurances that Bangkok would be safe from Thailand's flooding and announced that flood barriers might not hold.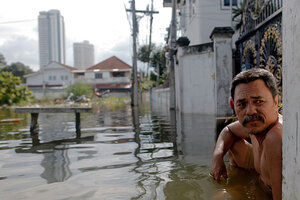 Damir Sagolj/Reuters
As the most severe flooding to hit Thailand in decades began to enter the heart of Bangkok's temple-dotted, tourist-magnet riverside districts today, Thailand's authorities conceded that there is a high possibility that most of the city's sprawling population of some 12 million could be inundated.
On Tuesday night, Thailand Prime Minister Yingluck Shinawatra broke from earlier assurances that Bangkok could be safe from flooding and announced that "The power of the water is more than the flood barriers and water gates can withstand." She added that "There is a high possibility that water will break into inner and central Bangkok as well as outlying areas."
While most of the city – which satellite images show to be surrounded by a mass of water – remains dry, the rush of water over river barriers today was a reminder of the precarious situation now facing Bangkok, where drinking water, nonperishable foods, and water purification tablets are running low, and threaten to disrupt Thailand's economic zone and tourism industry.
"Now, everything depends on the river, and how high it might get," says Anurak Praeroj, standing knee deep in fast running water and watching his staff line sandbags in front of his boarded up art gallery and cafe in an attempt to stem the flow coming from the river 30 yards behind.
Overflow from the Chao Praya river, which snakes through the city, washed into neighborhoods on both Wednesday, threatening the hospital grounds on one side of the river where 84-year-old King Bhumibol Adulyadej is currently staying. Across the river, the famous Grand Palace and Emerald Buddha are both also threatened. Ankle-deep water lapped at the gates of the Grand Palace by dusk on Wednesday. Farther inside the the city, some government buildings in the Lak Si district were reportedly seeing about 4 inches of water sloshing around their parking lots. Experts say water levels in Bangkok could reach as high as 5 feet if dikes to the north of the capital break.
---