Amid Europe debt crisis, EU goes hat in hand to China
Although China, the world's largest creditor, has bought European bonds in the past, experts doubts that it will invest in a new investment vehicle meant to alleviate the Europe debt crisis.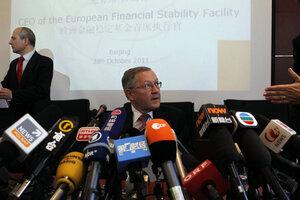 Ng Han Guan/AP
China is unlikely to play the role of white knight, riding to the rescue of debt-ridden European nations, Chinese and foreign analysts here are warning, as a visiting European official seeks Beijing's financial help.
"China will be polite, but they are not likely to put up any serious money," predicts Andy Xie, former chief Asia-Pacific economist for Morgan Stanley.
Klaus Regling, head of the Europe's bailout fund, the European Financial Stability Facility, met Chinese officials here on Friday to explore how ready they are to contribute to a new fund designed to relieve troubled European nations' debt burdens.
Mr. Regling cautioned against high expectations. His visit, he said "does not mean that I expect any precise outcome of our talks. There are no negotiations… and there will be no conclusion during my visit."
China's vice finance minister was equally cautious, saying his country would wait for more details before committing to the fund.
"We need to wait for the technicalities to be clear and also to carry out serious studies before we can decide on investment," Zhu Guangyao told reporters.
China is the world's biggest creditor, with foreign exchange reserves of around $3.2 trillion. Europe would like Beijing to use some of that money to buy European bonds. This week's European summit proposed a new "special purpose investment vehicle" to buy distressed countries' bonds, though the details of how it might work have yet to be decided.
---