Thailand flood defenses divide Bangkok
The Sam Wa canal breach highlights a growing divide over whether Thailand's flood defenses should be used to protect the heart of Bangkok at the expense of outer suburbs and towns to the north.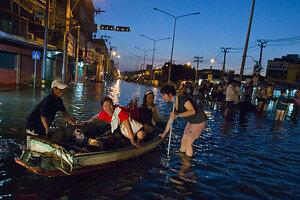 Adrees Latif/Reuters
An uneasy calm prevailed today along the Sam Wa canal in northern Bangkok after Thailand's government acquiesced to angry locals who wanted to hack a one-yard-wide opening in a sluice gate along the canal. The hole will allow their flooded suburbs to drain – but threaten flooding in the heart of the city.
For more than two months Thailand has been inundated with the worst flooding the country has seen in decades, in some places deeper than five feet. Almost 400 people have been killed and hundreds of thousands of others displaced. Bangkok, the economic hub of the country, has been relatively spared from massive flooding, protected by a system of barricades and canals.
However, partly because of the barricades, the water inundating the suburbs surrounding the city hasn't been able to properly drain, frustrating residents and forcing a debate on the ethics of protecting the canal-lined heart of Bangkok at the expense of the suburbs.
Thailand authorities announced yesterday at a press conference that most of the risk to inner Bangkok had passed as high tides in the Gulf of Thailand receded. However, the Bangkok city administration today painted a different picture, claiming that the new man-made breach could put previously dry parts of the city at risk, and slammed the national government for what the city authorities see as giving in to pressure from Sam Wa locals.
"Previously, we thought that 19 districts might not experience flooding but now none of them will be safe," said Deputy City Gov. Thirachon Manomaipiboon.
The new Sam Wa canal opening remains small, but now allows floodwater to run under a bridge and on toward southern city districts yet to be flooded. People living close to the canal and in fetid-smelling flooded areas behind the canal opening believe that this will relieve existing flooding in their areas, 20 miles from the heart of Bangkok.
---