China's crackdown grows as Tibetan self-immolations increase
The string of 10 recent Tibetan self-immolations – six monks, three former monks, and a nun – is unprecedented in modern Tibetan history.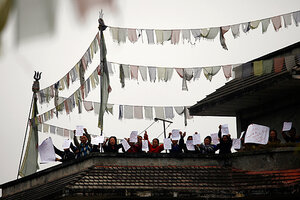 Niranjan Shrestha/AP
The young man's hands began to shake, and he tugged at his fingers to keep them still. The 20-year-old ethnic Tibetan was terrified of the police finding out that he'd spoken about the Buddhist monks who've been burning themselves alive.
"They're doing it because they want freedom," said the man, a livestock trader who asked that his name not be used because of safety concerns.
He paused before adding, "Because we want freedom."
Since March, according to rights groups, 10 Tibetan Buddhist clergy have set themselves on fire in China's western Sichuan province. Almost all those have come in or around the town of Aba, 50 miles as the crow flies to the west of Hongyuan, amid mountain ranges at the edge of the Tibetan plateau where yaks graze and prayer flags inscribed with mantras and blessings flap in the wind.
At least five reportedly have died in the fiery exclamations of Tibetan complaint about restrictions on their culture and religion and the continued exile of their spiritual leader, the Dalai Lama.
The chain of self-immolations – comprising six monks, three former monks and a nun – is unprecedented in modern Tibetan history. The most recent occurred Oct. 25.
Tough response
The response so far by the Chinese Communist Party has been to knuckle down even more. Towns surrounding Aba are stacked with police. Internet access is shut off in many spots. Those suspected of sympathizing closely with activist monks are said to have disappeared.
---