Thailand floods: At the floodwaters' edge, entrepreneurs flourish
Floods in Thailand have killed 437 people and submerged the northern suburbs and towns. As floodwaters slowly make their way to the center of Bangkok, locals are showing a can-do ethos.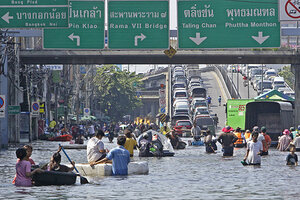 Sakchai Lalit/AP
As floodwaters edge closer to some of Bangkok's hitherto-dry central areas some enterprising people – including those affected by the waters – are doing a steady business selling flood-related provisions.
For more than two weeks, the floods that have killed 437 people and submerged northern suburbs and towns to the north, have been slowly making their way to the center of Bangkok. The west bank of the Chao Phraya River, the central part of the city, is heavily-flooded. Though the main shopping and business districts have been spared – so far – many businesses around the city have been forced to close as thousands of people have evacuated, or gone to tend their homes.
Squatting on a sidewalk on the Phahonyothin Road, Suchida Kumjit looks over her shoulder at the newly-rising waters less than a foot away. "It was dry here this morning," she says. "The water only came here at around noon today."
She has temporarily left her day job at a legal firm in flood-hit suburbs to the north, and is now collaborating with some friends, procuring and selling Chinese-made rubber boots for Bangkok residents needing to keep their feet dry and legs protected.
Ms. Suchida and her friends represent a growing number of residents who, amid the disruption that the floods have wreaked on their jobs and homes, are showing a can-do ethos, and helping others and themselves.
As the water moves south, the market opens up. "We have sold 36 pairs [of boots] today so far," says Suchida. But, she says, when the water rises they will move shop and sell more boots at the flood's edge.
Standing nearby is Nattapong Sodajan, arms resting on one of the inflatable dinghies he is selling at 4,500 baht ($146) each. "My job is gone for now," he says. "I used to drive a delivery van bringing wholesale goods to shops, but the warehouse is flooded."
He says he has sold about 10 dinghies a day since commencing his new venture on Monday, procuring the inflatables for 4,200 baht ($136.40) each wholesale price.
Across the street, army and volunteer trucks pull up in shin-deep rising waters outside a shopping mall and cinema, with police sirens blaring less than a mile from Bangkok's main court buildings.
To the north of this newly-flooded street, there have been disputes across the flood barricades between residents and officials. People living in flooded areas say they have been left to suffer with deep stagnant waters in order to save the inner city.
---