In the face of a tougher China, Taiwan tries different tactics to get noticed
As China tries to get Taiwan to talk politics, Taipei is attempting to head off any public opinion backlash at home by looking elsewhere to achieve its goal of international independence.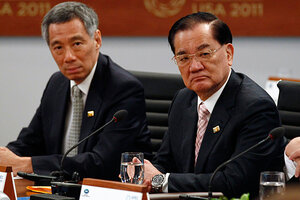 Jim Young/Reuters
Over the past few years, Taiwan has been pushing for a voice in United Nations agencies in order to assert its legitimacy overseas and look strong at home.
For that to happen, however, Chinese officials must give their nod of approval. As warm as Taiwan-Chinese relations have become in the past 3-1/2 years, China still sees Taiwan as part of its territory and actively asks its 171 diplomatic allies to block the island from joining international bodies.
But now, Taiwan's push – popular with most Taiwanese – has lost ground as its relationship with Beijing loses momentum.
To head off a public backlash at home, Taiwan is scrambling to find successful alternatives to achieving its goal of international independence, such as visa-free travel and free-trade deals. It may be too little too late, however. The setbacks in international diplomacy could well cost Taiwan President Ma Ying-jeou points with voters as he campaigns for reelection in January 2012.
"Most people think it is fairly ironic that hundreds of nations can be members of the UN, even member-states with much smaller populations, while Taiwan is kept outside the door," says Jay Lin, managing director of a TV content distributor in Taipei. "It is not as if Taiwan is asking for a permanent seat in the Security Council."
And Mr. Lin's sentiments are echoed by thousands of Taiwanese.
How China has stymied Taiwan's UN bid
To compound matters, Taiwan was a full UN member until 1971, when the organization recognized the People's Republic of China instead because of its fast-growing ties with influential world powers.
---
Follow Stories Like This
Get the Monitor stories you care about delivered to your inbox.