South Korea's Yeonpyeong Island one year after North Korea's attack
Residents of South Korea's Yeonpyeong Island are confident enough to return to one year after North Korea's devastating attack, but still nervous.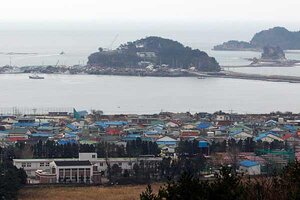 Lee Jin-man/AP
Yeonpyeong Island, South Korea
The sounds of artillery shells still send shockwaves through the streets of the little village by the sea where most of this remote island's 2,000 residents make their homes.
"Whenever there's a defense drill, people are scared," says Park Mi-ae, who runs a small restaurant on the narrow main street of the village. "And if there's an aftershock," an echo, she says, "people are totally terrified."
Everyone on South Korea's Yeonpyeong Island – just a few miles off the coast of North Korea – knows the South Korean marines stationed here fire off shells periodically for practice, but no one can forget the North's devastating attack one year ago Nov. 23. Most residents fled in panic after 180 shells rained down on the island, killing two marines and two civilian workers.
By now, though, most have returned, their confidence buoyed by a beefed-up South Korean security presence. The marines have tripled their numbers on the island, from 500 to 1,500. They patrol day and night and have placed many more tanks and artillery pieces within easy range of North Korea.
The added military might here – and on half a dozen other islands in the Yellow Sea off the North's southwestern coast – helps explain why the North does not seem likely to stage a repetition of last year's attack, at least in the near future.
"Repeated provocations would bring a harsh response from the South," says Kim Suk-woo, a former vice minister of unification, responsible for South Korea's off-again, on-again dealings with North Korea. "They could not seek a provocation at this moment." Still, he adds, "They are seeking the chance."
Pressure from China
---