China's younger generation: lifestyle counts as much as work
China's younger generation is leading a shift away from a job-is-everything work ethic in favor of 'naked resignation' – leaving one job before finding another in order to pursue personal interests.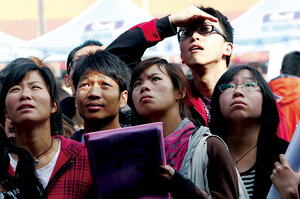 Reuters
Early this year Song Hao, a stocky, bearded video editor in his late 20s, began to feel that the job he'd been doing for nearly four years was boring, leading nowhere, and certainly not worth the overtime he was made to do every evening.
"I wanted to take a break and use the time to do something I really liked, even if it didn't earn me any money," Mr. Song said one recent evening over a cappuccino in a Beijing cafe.
So he quit.
He had no other job lined up, or any immediate plans to find one. He did, though, have enough savings to keep him going for a few months and a burning desire to make a short movie with some friends. And that's what he did. Three months later he went back to work, at a different company.
Such a casual attitude to the workplace would have been unthinkable in China just five years ago. But in an emerging social trend, growing numbers of young people "are more concerned with their own feelings and their happiness and less worried about salary and status," says Hong Xiangyang, founder of the Sunward employment agency in Shanghai.
"These 'little emperors' live for themselves," Mr. Hong adds, using the familiar epithet for products of China's one-child policy. "They find it hard to bow to the demands of the group" and are less willing to put up with a job they don't like just because they are supposed to.
Hong first noticed the phenomenon early last year, he says, as more and more clients began coming to him in search of a job having already left the one they had been doing. So he started studying what has become known as "naked resignation" because people quit without being covered by the security of another job.
---