On Burma (Myanmar) visit, Hillary Clinton highlights North Korea determination
As Secretary of State Hillary Clinton visits Burma (Myanmar) to laud democratic reforms there, Burma's ally, North Korea, proudly claims rapid progress on its nuclear program.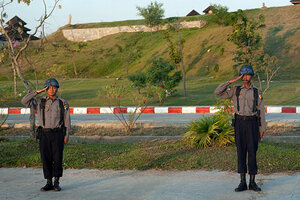 Saul Loeb/Reuters
Secretary of State Hillary Rodham Clinton called today for North Korea to "promote peace, stability, and denuclearization," as the North boasted of "leaping progress" in building a light-water nuclear reactor along with low-enriched uranium.
Secretary Clinton issued the call in the port city of Pusan on the way to Burma (Myanmar) on a mission to encourage reform of a government that is strongly suspected of planning to build a reactor with North Korean assistance.
The juxtaposition of Ms. Clinton's plea for North Korea to give up its nukes and Pyongyang's proud claim of rapid progress on the light-water reactor dramatizes American differences with North Korea.
The North, which has conducted nuclear tests in 2006 and 2009, is widely believed to be preparing for a third test.
After issuing a defense of its escalating nuclear program, North Korea renewed its threat to turn the office and residence of South Korea's President Lee Myung-bak into "a sea of fire." The use of that phrase was "not empty talk," according to Radio Pyongyang, but a warning to "refrain from rash acts" – including possibly a South Korean attack on the North.
---