Thai court sentences American citizen to 2.5 years in prison for insulting monarchy (VIDEO)
American Joe Gordon, who translated a banned biography of Thailand's king and posted it online while living in Colorado, was sentenced to 2-1/2 years in a Thai prison.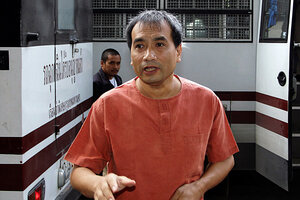 Apichart Weerawong/AP
US citizen Joe Gordon was sentenced to 2-1/2 years jail today for translating a banned biography of the Thai king and posting it online while living in Colorado, drawing condemnation from free speech advocates and US officials.
Mr. Gordon is the latest to be charged on Thailand's lèse-majesté laws, some of the strictest in the world, which include prohibitions on posting anti-monarchy slurs online and can mean a prison sentence of 3 to 15 years. Exact figures are not available, but lèse-majesté cases and convictions have spiked in recent years amid political uncertainty since a 2006 military coup and concerns over what will happen when King Bhumibol Adulyadej's long reign ends.
But the latest sentence is the first time that someone has been jailed for a lèse-majesté offence committed outside Thailand. Noting this, Benjamin Zawacki, an Amnesty International representative in Thailand, said today's jailing of Gordon shows "the long arm of the lèse-majesté law."
Gordon, born in Thailand as Lerpong Wichaikhammat, pleaded guilty to charges, which earned him a reduced sentence from the proposed five years, according to the judge in court today.
---