Indonesia targets crumbling roads to boost economy
Collapse of Indonesia's 'Golden Gate' bridge highlights inadequate roads that hold back the Indonesian economy, at a time when other Asian economies are prospering.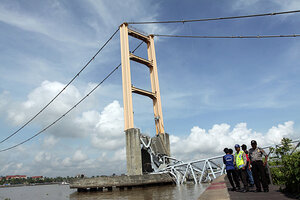 AP
A bridge collapse on Nov. 26 in northern Indonesia was the latest blow to the country's international competitiveness at a time when investors are increasingly looking to take advantage of strong growth in Southeast Asia's largest economy. An investigation is underway into the cause of the collapse, which sent cars, motorbikes, and a public bus tumbling into the murky Mahakam river, killing at least 21 people, but analysts say poor construction and maintenance, and insufficient use of materials are partly to blame.
Woefully inadequate infrastructure is one of the biggest challenges facing Indonesia, say investors, who often complain that a lack of roads and inefficient shipping networks hold up business.
"At least 30 percent of a company's production costs go to transportation," says Latif Adam, an economist at the Indonesian Institute of Sciences, a government research center. He notes that the global average is closer to 10 percent.
Rampant corruption, legal uncertainties, and bureaucratic delays also threaten to undermine foreign investment at a time when Indonesia is banking on private financing to support around half of the $200 billion it has committed to infrastructure development.
As of October, officials in the capital, Jakarta, had spent only 30 percent of their annual infrastructure budget. They're now scrambling to use the rest before year's end, says Mr. Adam, who worries that rush jobs could lead to more incidents like the bridge collapse.
---