Kim Jong-il dies: Will his son replace him as leader of North Korea?
Kim Jong-il, the enigmatic leader of North Korea, died Saturday, state media reproterd. Kim Jong-il ruled North Korea for 17 years, and is expected to be replaced by his son, Kim Jong-un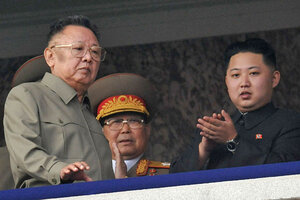 REUTERS/Kyodo/Files
North Korean leader Kim Jong-il is dead.
A weeping North Korean woman, garbed in black traditional dress, announced Mr. Kim's death on North Korean television on Monday, two days after he suffered a heart attack while on a train.
His death at the age of 69 leaves an enormous power vacuum in North Korea even though over the past three years he has sought to advance his third son, Swiss-educated Kim Jong-un, in his late 20's, as his successor.
Kim Jong-un's ascendancy was signaled clearly on Monday with the announcement that he would be in charge of funeral arrangements for his father, who was known as the "Dear Leader." The initial mourning period will end on December 29 after which North Korea is likely to retreat into a backstage power struggle whose outcome is far from clear.
"In a situation like that the systems don't allow for easy adjustment," says David Straub, former head of the Korea desk at the US State Department.
The transition may be smoothed, however, Mr. Straub notes, by the influence of a core inner circle, including Kim Jong-il's widow, sister and brother-in-law, as key players along with a coterie of generals who may form a ruling clique behind the throne held by Kim Jong-un.
Kim Jong-il died at a critical moment in U.S.-North Korea relations in which the U.S. was widely reported to be about to announce 250,000 tons in food aid for the first time in three years, while North Korea was reportedly about to announce a moratorium on missile and nuclear testing.
This planned deal is now up in the air.
North Korea had appeared recently to have softened the tone of its rhetoric while preparing for what would have been Kim's 70th birthday in February and huge celebrations surrounding the 100th anniversary of the birth of his long-ruling father, Kim Il-sung, who died in 1994.
---