Kim Jong-il's death brings end to era of cruelty, mystery
'Dear Leader' Kim Jong-il's death ends 17 years of leadership defined by oppression, bizarre stories of grandeur, and tensions with the West over its nuclear program.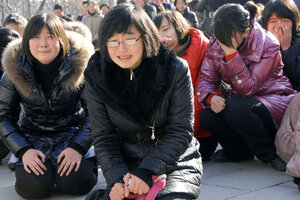 Kyodo News/AP
Kim Jong-il's death at the age of 69 ended an era of profligacy and harshness that included reports of both his wild living in his many mansions and stories from defectors of extreme cruelty in a gulag system to which 200,000 people were constantly consigned.
The report of the demise of the man known as North Korea's "dear leader" – who reportedly imported cognac along with Swedish hostesses and dined on fine food dished up by a Japanese chef who dedicated a special brand of sushi to him – confirmed speculation that he had been seriously ill for awhile.
Kim Jong-il was born in 1941 or 1942 near the Soviet Siberian city of Khabarosk while his father, the long-ruling Kim Il-sung, was an officer in the Red Army. However, most North Koreans never heard the truth about Kim Jong-il's origins. They were told that he was born in a cabin on Mount Paektu, the highest peak on the Korean peninsula, straddling the North Korean-Chinese border. As he was born, rainbows appeared in the heavens, according to the story put out by the propaganda machine that his father built over the years after he was sent by the Russians to Korea on a merchant ship following the Japanese surrender in August 1945.
Kim Jong-il was widely reported to have suffered a stroke in August 2008 and afterward disappeared from public view for several months while recovering. In the past two years his health appeared to greatly improve, and he went on regular inspection tours of military installations, factories, farms, and markets, generally accompanied by his son Kim Jong-un, who is poised to succeed him.
---