Kim Jong-un's ascension offers window to ease North-South tensions
Kim Jong-un is preparing to take charge in North Korea, giving the Koreas a moment to ratchet down tensions. For South Korea, interest in stability runs high.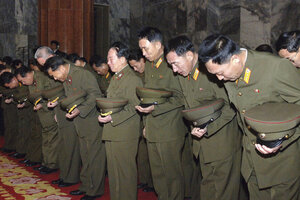 KCNA/Reuters
South Korea wants to get along with North Korea, and North Korea wants to improve relations with foreigners.
Those desires, as expressed by South Korea's President Lee Myung-bak, the North Korean press, and by some South Korean lawmakers, gave the impression Thursday that South and North Korea might again begin to reconcile once Kim Jong-un gets used to his role as heir to the dynasty that his father Kim Jong-il led for 17 years.
"We are not hostile to the North, " said President Lee, as quoted by his senior secretary. Indeed, he added, "front-line troops are maintaining low levels of vigilance" – down from the emergency alert called after North Korea announced Kim Jong-il's death Monday – and "an early stabilization of North Korea's system is in the interests of neighboring countries."
In Pyongyang, the official newspaper Rodong Sinmun promised "to strengthen friendships with people of foreign countries" while calling on everyone to unite around "great comrade Kim Jong-un and faithfully follow his leadership."
Such expressions from Seoul and Pyongyang in theory suggest at least a desire to patch up their differences. Yet reconciliation will be a long and difficult process and reunification is out of the question in view of the depth of hostilities, fear of instability on the peninsula, and the North's rigid dictatorial structure.
For now, in the view of observers here, the crisis atmosphere that often surrounds relations between the two countries may well ease while Kim Jong-un gets used to exercising power at the behest, perhaps, of an inner circle carefully selected and nurtured by his father.
---