North Korea uses Kim Jong-il funeral to send olive branch and warning to South
North Korea welcomed plans for two private 'condolence delegations' from South Korea to Kim Jong-il's funeral, but condemned the South's refusal to send official delegation and warned darkly of consequences.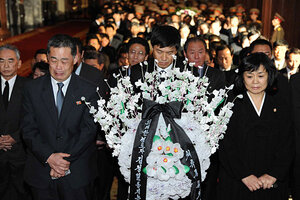 AP
North Korea is turning the funeral in Pyongyang next Wednesday for Kim Jong-il into an opportunity for rhetoric against South Korea for refusing to send an official condolence delegation and then for banning most other South Koreans from going there as well.
North Korea's official website Uriminzokkiri on Friday attacked South Korea for "unacceptable and inhumane action" for banning all but two condolence groups and warned darkly of the ban's "significant impact" of the ban.
The message on the website appeared as an attempt at intimidation, and a bid to suggest a new crisis on the Korean peninsula after Kim Jong-un, third son of Kim Jong-il, has assumed power.
"We will keep in mind those who do not understand even the most basic actions of respect and humanity," said the message, warning that those "who insult our dignity" face "a very expensive price."
The rhetoric suggested that the regime that falls into place after the funeral is not likely to shift dramatically from the hard-line stance of Kim Jong-il, who ruled with an iron fist during 17 years in power before his death – even while earning a reputation as a playboy and charming foreign visitors.
---