Scalp the iPhone 4S in China? No phone for you, says Apple. (+video)
Apple shut the doors of its flagship Beijing store Friday as scuffles broke out among people - many of them scalpers - waiting to buy the just-released iPhone 4S.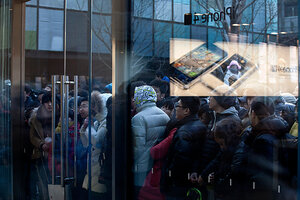 Andy Wong/AP
Apple's long-awaited release of its iPhone 4S in China turned into an abortive slugfest at dawn on Friday, as an army of scalpers erupted in fury at the company's decision not to open its flagship store in Beijing.
Thousands of customers had queued overnight for the latest must-have Apple phone, but most of them were working for black-market traders who planned to re-sell the phones outside the store for a hefty markup.
Scuffles broke out between rival gangs of scalpers as opening time approached, and all semblance of order outside the Apple store broke down. Employees kept the shop in the up-market Sanlitun neighborhood closed, and posted a notice saying no iPhones would be sold there for the time being.
Angry scalpers, angry workers
Furious scalpers began throwing eggs at the store and shoving police and security men, while furious students, migrant workers, and others who had been promised 100 RMB ($16) to wait in line all night surrounded scalping gang leaders who refused to pay them because they had not bought any goods.
---