Taiwan and China to grow closer with Ma's reelection
The reelection of Taiwan President Ma Ying-jeou heralds closer ties with China, leaving one less trouble spot in East Asia for the US.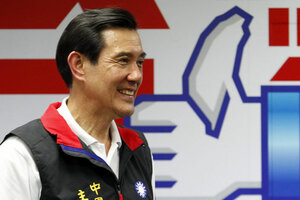 Pichi Chuang/Reuters
Taiwan President Ma Ying-jeou's smooth reelection over the weekend is likely to lead to closer ties with China, which is already on the island's good side, and allow Washington to relax as it seeks friendly relations with both.
Mr. Ma won another four years on Saturday with about 51 percent of the vote. China-leery opposition candidate Tsai Ing-wen came in second with 46 percent. Voters also gave Mr. Ma's Nationalist Party a 57 percent majority in the Taiwanese parliament.
The presidential outcome, which analysts say shows voters played safe by choosing the incumbent over an opponent whose China and economic policies were murkier, augers a deepening of China-Taiwan ties plus a reduced threat of war.
US officials will turn to more pressing foreign policy issues as long as the two sides keep peace but don't reunify, political analysts say.
"In a general sense, Washington and Beijing both feel relieved with this election result," says Alexander Huang, strategic studies professor at Tamkang University in Taiwan. "I think from China's side, Taiwan's election was a kind of indirect referendum to examine whether their China policy worked. For Washington, it's a bigger picture. The Taiwan Strait is now proven to be a stable region compared to Korean peninsula and South China Sea."
In a rainy nighttime victory speech, Ma pledged to step up links with China, which have buoyed Taiwan's $425 billion export-dependent economy as a massive market and low-cost manufacturing base.
---