Experts cast doubt on Japan nuclear power plant stress tests
The Japanese government ordered tests on all nuclear reactors after Fukushima meltdown, and are set to reopen at least one shortly, but advisers say the tests do not prove the plants are safe.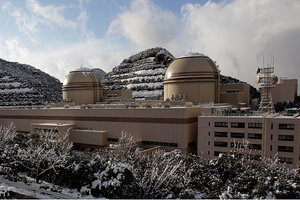 Shizuo Kambayashi/AP
Advisers to Japan's nuclear safety agency have condemned stress tests being conducted at nuclear power plants around the country as the government seeks international support for the early resumption of dozens of idle reactors.
The government ordered tests on all of Japan's reactors after the March 11, 2011, accident at the Fukushima Daiichi nuclear power plant cast doubt on the safety of nuclear power in a country prone to earthquakes and tsunami.
A team of experts from the International Atomic Energy Agency (IAEA) began a review of the safety tests this week. Although the inspectors say their role is not to offer advice, moves to get reactors back online will be boosted by a positive appraisal of the tests in the IAEA report, due at the end of the month.
But two nuclear experts said the stress tests being conducted at Ohi and elsewhere were deeply flawed and raised concern that the Japanese government was pushing for a return to nuclear power too soon.
"It is a misunderstanding to believe these tests prove that a nuclear plant is safe," says Masashi Goto, a former nuclear power plant designer.
Currently only three of Japan's 54 reactors are in operation, 10 months after the Fukushima accident forced the closure of active reactors for safety checks. The latest closure came on Friday, when a reactor at a plant near the Japan Sea was shut down to undergo regular inspections.
The government is pushing for the early restart of idled reactors to ward off a possible power shortage during the long, humid summer.
---