Why exotic animal trade grows in Asia
Rising wealth lifts demand for exotic pets and delicacies in Asia. Meanwhile, enforcers are stretched thin.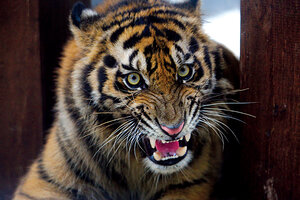 Tatan Syuflana/AP
On a traffic-snarled Jakarta roadside, a market trader thrusts out a forearm with a terrified looking primate clasping tightly to his skin.
"You can have it for 300,000 rupiah [$30]," he says of the slow loris, a protected species whose sluggish movement makes it easy prey for poachers. The destruction of its habitat and its low reproduction rate are why the loris is classified as facing extinction under the Convention on International Trade in Endangered Species, which bans their trade.
But here at the Jatinegara market, there is no attempt to conceal the sale of loris or many other endangered species. Orangutans, Sumatran tigers, and Javan eagles are just a few of the threatened species in Indonesia's animal markets.
It is a scenario that has been playing out across Southeast Asia for centuries, but with increased speed in the past decade, as a burgeoning class of wealthy Asians who cherish rare creatures as exotic pets, delicacies, or for supposed medicinal qualities fuel a booming and illegal trade.
The plunder – a small piece of the greater challenge of environmental conservation in Indonesia – is happening in conjunction with habitat depletion, and conservationists fear some species will soon disappear while new ones tumble onto the endangered list.
"Rare animals have become status symbols. They are trophies for people to demonstrate their wealth and the collateral damage of Asia's economic rise," says James Compton, senior director for Asia-Pacific at Traffic, a conservation group that monitors wildlife trade.
"We will see some local populations of endemic species disappear very quickly. Look at what happened to the tiger population over the past 100 years," he says.
---