Interview: Former US spy chief sees shift toward Asia
In an interview, Admiral Dennis C. Blair - the former director of national intelligence - says the US needs to back moderate Islamic societies, and urges Israel to keep pace with a changing Middle East.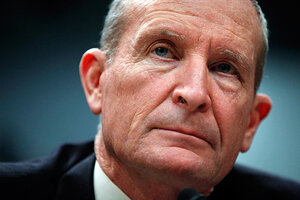 Manuel Balce Ceneta/AP
Over the last year, the US intelligence bureaucracy has scrambled to keep up with the fast-changing events of the Arab Spring, from the crowded rows of protestors in Tahrir Square to the chaotic battlefields of Libya. Twelve months before the revolutions began, Admiral Dennis C. Blair was the man responsible for managing those often disparate agencies. As Director of National Intelligence, his job was to direct American eyes and ears on the ground.
Now retired, Admiral Blair sat down with Elizabeth Dickinson at a conference in Kuala Lumpur, Malaysia, to discuss how events are evolving. He argues that the moderate Islam of Southeast Asia merits American support, past efforts at democracy prevention have been poorly conceived, and it's time for Israel to think twice about its foreign policy in the context of the changing Middle East.
Elizabeth Dickinson: What are the security priorities for the United States right now in Malaysia, and the region of Southeast Asia more broadly?
---