Despite Fukushima disaster, anti-nuclear activists fight uphill battle in Japan
Even though most Japanese now oppose nuclear power, activists say building a strong movement has proven difficult.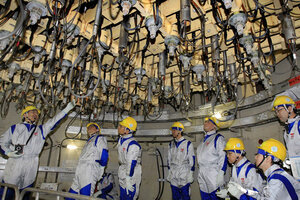 Kyodo News/REUTERS
The triple meltdown at Japan's Fukushima Daiichi nuclear power plant last March unleashed the largest wave of public protest the country, not known for its activism, has seen in decades.
But activists say they are struggling to turn widespread anger toward the government agencies and industry responsible for the disaster into a sustained movement that causes real change.
"[After the accident] parents' groups sprang up all over the country, and for six months or so they've been able to run on pure momentum. But long-term activism is very difficult. We have to turn this into a movement that doesn't forget, doesn't give up, and doesn't stop," says Emiko Ito, a mother of four and co-founder of the National Network of Parents to Protect Children from Radiation, which has over 275 member organizations from Hokkaido to Okinawa.
Mothers make up the majority of new participants, Ms. Ito says. The Tokyo area has the most groups, followed by the Osaka/Kyoto region and then the prefectures near the damaged plant.
The groups are demanding school boards test school lunches, pushing city councils to reject shipments of contaminated soil from Fukushima, and petitioning the central government to give families the right to evacuate from a wider area around the nuclear plant. They have had some success, including a government commitment to pay for devices to measure radiation levels in school lunches in 17 prefectures.
---