Getting to know Xi: White House prepares to meet China's new man
President Obama and Xi Jinping, China's likely next president, meet today at the White House. Many are hoping for a good rapport that will bolster a strained US-China relationship.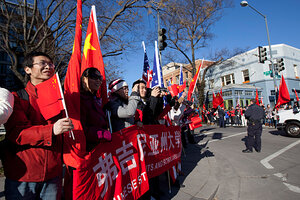 Manuel Balce Ceneta/AP
Who is Hu? That is a question US officials have been asking themselves for nearly a decade about China's wooden and uncommunicative leader Hu Jintao. And they still don't have an answer.
Today, when President Obama meets Xi Jinping, the man slated to take over Mr. Hu's job next autumn, he will be hoping it will be a little easier to strike up a personal rapport with the man expected to run China for the next 10 years.
As the US and China clash over a wide range of political and economic issues, "their two leaders need to feel they have a good read on each other at a personal and political level," says Kenneth Lieberthal, director of the China Center at the Brookings Institution in Washington.
Nobody expects any breakthroughs on the questions that divide Washington and Beijing during Vice President Xi's visit. Instead, this is a mood-setting trip, giving Mr. Obama a chance to take the measure of China's next leader and offering Mr. Xi an opportunity to get a better feel for America.
The trip is also important to Xi for his own political reasons. He is generally expected to become the head of the ruling Communist party next autumn, and to take over the Chinese presidency early next year.
---