North Korea marks Kim Jong-il's birthday: Why's his son so quiet?
North Korea commemorated Kim Jong-il with parade, dancing, and pledges of loyalty to his son. But as usual, Kim Jong-un remained silent.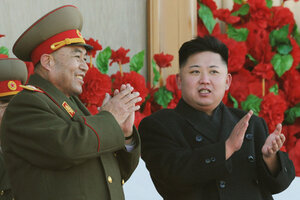 Kyodo News/REUTERS
North Koreans showered superlatives of praise for the late "Dear Leader" Kim Jong-il on what would have been his 70th birthday Thursday.
Crowds swarmed Pyongyang's Kim Il-sung Square, named for Mr. Kim's father, who ruled for nearly half a century before dying in 1994. Kim Jong-il's son and heir Kim Jong-un, picked by his father as the third-generation leader of the dynasty, now "supreme leader" of the Army, the state, and the Workers' Party, led hundreds past his father's portrait in the memorial hall in Pyongyang where his body lies under glass.
The anniversary observances seemed to cover just about every imaginable form of tribute. Soldiers and military vehicles were on parade, bronze statues of both Kim Jong-il and Kim Il-sung on horseback were unveiled, figure skaters and synchronized swimmers performed in his memory, his name was gouged out of the rock on a mountain and commemorative stamps and coins were issued.
The real point of all the hoopla, however, seemed to be to project the image of Kim Jong-un as a credible leader of a country suffering from endemic hunger and disease after years of economic mismanagement and devastating central planning. But as usual, Kim Jong-un uttered no words in public – a silence in the tradition of his father, who in his years in power was heard to speak only a sentence or two on public occasions.
Instead, as when Kim Jong-un appeared the day after his father's funeral, he left the talking to Kim Yong-nam, the octogenarian titular head of state.
Since his father's death, Kim Jong-un has appeared on camera frequently of late visiting mainly military units – a campaign to show that he is perpetuating his father's military first policy. The aim is to prove the young man is capable of leading the country despite his inexperience.
---