From Our Files: Iwo Jima, Feb. 23, 1945
Iwo Jima, a tiny volcanic island in the Pacific between the Marianas Islands and mainland Japan was the site of one of the most historic battles of World War II in which the United States captured the island from Japan. By the end of the campaign 6800 Americans and 20000 Japanese died between February 19 and March 26, 1945. The battle is recognized by the iconic photograph of U.S. Marines raising the American flag at the summit of Mt. Suribachi on February 23, 1945.

John Beaufort was a reporter for The Christian Science Monitor who covered the Pacific theater during World War II. He landed at Kwajalein atoll with the Marines, accompanied the landings at Okinawa, and covered the invasion of Iwo Jima. Here is Beaufort's account, originally published in the Feb. 23, 1945 issue of The Christian Science Monitor. – Leigh Montgomery, Librarian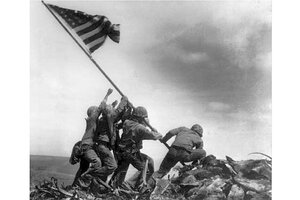 Joe Rosenthal/AP
ADVANCE PACIFIC FLEET HEADQUARTERS, Guam. Via Navy Radio, Feb. 23
With Mt. Suribachi now in the possession of the United States Marines at a cost of 5,372 casualties, the invaders at last have a substantial foothold and the technical advantage of their first high terrain.
That the Japanese were able to withstand the persistent and terrific preinvasion bombardment of Iwo and yet put up the toughest resistance experienced anywhere in the Pacific is proof that they mean to fight tenaciously for every inch of the Island.
The toughness of this island fortress is emphasized in figures released by Admiral Chester W. Nimitz covering bomb and shell tonnages expended prior to the landings.
PREINVASION ASSAULT
During the 72 days between December 7 and February 19, Iwo Jima was subjected to a furious air and sea assault which is believed to have set a record for this type of attack.
In five naval bombardments, exclusive of the final preinvasion ship-to-shore barrage, surface forces fired 2,100 tons of explosives into the tiny isle. In daily consecutive air raids, Army Liberators dropped approximately 6,000 tons of bombs of various types. Five raids by Superforts of the 21st Bomber Command added an estimated 1,500 tons of bombs.
OTHER BOMBINGS
In the final bombardment, and in the ships' artillery support through Feb. 20, battleships, cruisers, and destroyers fired an additional 8,000 tons.
---