North Korea plan to fire missile spurs doubt about US nuclear deal
North Korea's announcement that it would launch a long-range missile carrying a satellite throws into doubt the future of a food-for-nuclear-moratorium deal with the US.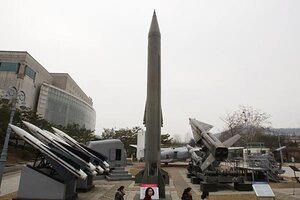 Ahn Young-joon/AP
North Korea put its agreement with the United States for food aid into jeopardy today with a plan for firing off a long-range missile with a satellite as payload.
North Korea's state media said the launch would coincide with massive celebrations surrounding the April 15 centennial of the birth of "Great Leader" Kim Il-sung, who ruled for nearly half a century before dying in 1994 and leaving power to his son, Kim Jong-il, who died in December.
The US, Japan, and South Korea denounced the North Korean plan, revealed after a series of visits by Kim Jong-il's third son, the North's fledgling new "supreme leader" Kim Jong-un, to military units just above the demilitarized zone that has divided the two Koreas since the Korean War.
The plan for firing the missile again escalates regional tensions after hopes were raised in Washington by the US-North Korea "leap year" deal of Feb. 29. South Koreans have been highly skeptical of the deal, widely viewed as a North Korean attempt at deceiving the US while bypassing the South.
---