Korean missile politics overshadow Seoul nuclear terrorism summit
More than 50 world leaders, including President Obama, are set to arrive in Seoul to discuss prevention of nuclear terrorism, but Pyongyang's plans for a new missile test have shifted the discussion.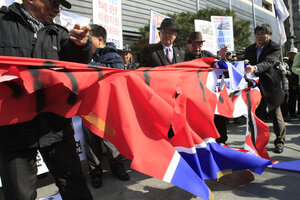 Lee Jin-man/AP
North Korea's plan to launch a long-range rocket next month revs up the confrontation on the Korean peninsula just as South Korea is about to welcome more than 50 global leaders here to come up with an agenda for combating nuclear terrorism.
In the first substantive response to the North Korean plan, South Korea's President Lee Myung-bak has indicated he will impress upon President Obama the South's desire to update a 32-year-old agreement with the US that limits South Korean missiles to a range of 300 kilometers.
"We need an appropriate range," Mr. Lee has been telling journalists here. "Realities and circumstances have changed."
Lee is expected to make his plea for revision of the missile deal when he sees Mr. Obama on Sunday after the US president gets back from a quick visit to the demilitarized zone that has divided the Korean peninsula since the end of the Korean War.
The shock of North Korea's announcement of a missile test gives fresh significance to a "national security summit" in which the leaders on Monday and Tuesday will discuss a wide range of measures to keep nuclear devices from falling into the hands of terrorists.
South Korea's foreign minister, Kim Sung-hwan, today branded the North Korean plan to launch a rocket "a grave provocation" intended to test "a vehicle with nuclear weapons." Mr. Kim bristled, however, when asked about a threat by the North to view any mention of North Korea at the summit as "a declaration of war."
---