Muslim militants in south Thailand growing stronger
Four explosions rocked southern Thailand, killing 14 people in one of the biggest attacks in the eight year insurgency. The militancy remains far from tourist hot spots.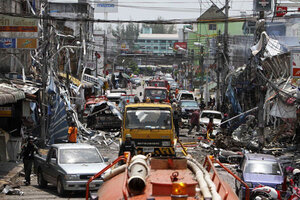 Surapan Boonthanom/Reuters
Muslim insurgents announced a deadly new departure in their long-running terror campaign in southern Thailand, with four explosions killing 14 people and injuring more than 300 on Saturday.
Just before noon on Saturday, a truck bomb went off in the middle of a busy shopping and restaurant area of Yala, a town of 75,000 people in Thailand's south. Around 20 minutes later, as rescue workers convened and members of the public looked on, a second blast went off in the same area. Elsewhere in southern Thailand, in Hat Yai, a popular hotel was targetted, with a Malaysian tourist among the dead from a blast there, while insurgents also set off a motorcycle explosion at a police checkpoint in Pattani province.
The attacks resulted in one of the worst death tolls in the history of the eight year insurgency in the region, which has claimed more than 5,000 lives since 2004. Ethnic Malay Muslim insurgents in Thailand's southernmost provinces of Narathiwat, Pattani, and Yala are thought to be seeking greater autonomy for their region bordering Malaysia to the south, though they have not to date stated their precise political aims.
"It is a significant escalation in terms of the scale of the attacks, with three car bombs and one motorcycle bomb in one operation. That has never happened before. It is also an escalation in that both in Yala and Hat Yai it was a pretty ruthless targetting of civilians on a busy Saturday afternoon," says Anthony Davis, a Bangkok-based security analyst with IHS-Janes.
---