Opposition claims historic sweep in Myanmar elections
The symbolic importance of a landslide opposition victory in Myanmar could prompt a backlash against reformist President Thein Sein by hardliners in the military.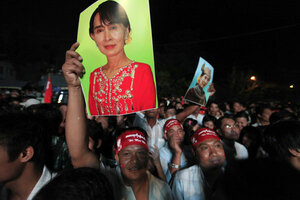 Soe Zeya Tun/Reuters
Jubilant supporters of pro-democracy icon Aung San Suu Kyi sang and danced outside the headquarters of her opposition National League for Democracy here on Sunday night, as the party claimed a stunning near clean sweep of the parliamentary by-elections held earlier in the day.
NLD officials said they were confident of winning 40 of the 45 seats at stake. If confirmed, the results would deal a major blow to the credibility of the military-backed Union Solidarity Development Party (USDP) which has dominated parliament since flawed elections in 2010 that the NLD boycotted.
"I am very happy for democracy and for the future of our country," said NLD spokesman Nyan Win, as thousands of supporters, many clad in red T-shirts emblazoned with their party's golden peacock emblem, danced and clapped in the street outside to the sounds of party songs blaring from loudspeakers.
Neither the government, nor the USDP, had made any statement by late Sunday evening. Official results are not expected until later in the week, but the NLD said it based its claims on vote counts from individual constituencies reported by the media and party representatives at local vote-counting centers.
The unexpected scale of the opposition's apparent victory – matching its triumph in elections in 1990 that the military junta then in power chose to ignore – is likely to unnerve the government – mainly comprising former Army generals – that had hoped to control the pace of political reform, local and foreign analysts suggested.
---