Inside North Korea's big birthday bash
To mark what would have been the 100th birthday of the North Korean founder, thousands came to Pyongyang to view elaborate displays. Most North Koreans got three days off for the party.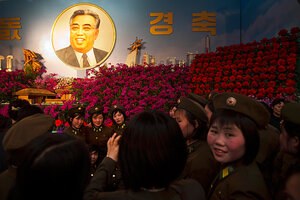 David Guttenfelder/AP
For the past few months, and even years, North Korea has been preparing for this moment.
And true to form, the celebrations marking the 100th anniversary of the birth of the "Eternal President" and national founder Kim Il-sung have been filled with all the meticulously detailed preparations the West has come to expect from the East Asian "hermit kingdom."
But for all the expectations of rigidity and regimented formality, there is a splash of spontaneity to be seen by visitors present at the ongoing festivities in the name of the "Great Leader"– even years after his death in 1994.
Thousands of military personnel from the Korean People's Army paused from their choreographed performance as they exited the official parade route at Kim Il Sung Square on Sunday (the centenary of the April 15th occasion). They reached out to locals, many of whom waved flowers and balloons during the bigger-than-Christmas and New Year four-day party of the century, which winds down today.
Kitted out in full uniform, soldiers from the army, navy, air force, and even several truck loads of service men and women dressed in the style of the guerrilla army famed in North Korea for battling the Japanese occupation of 1910-1945, shouted back to congratulatory cries from Korean onlookers.
There were welcomes, too, for a group of tourists, who had managed to find a way into the crowds despite the close watch of their nearby handlers. One visitor was even so lucky as to shake the hands of some dozen or so soldiers as their Russian-made Zil brand military truck stopped on the street, unable to inch forward on the road swarmed by hundreds of other identical vehicles ahead.
It was an unexpected shift from the stern faces seen earlier that morning on hundreds of military soldiers, who seemed to have nothing but sharp stares and suspicious eyes for visiting foreigners at the Revolutionary Martyr's Cemetery.
---