China's Bo Xilai affair: where the case stands
Much about the stunning fall of politician Bo Xilai remains unknown. But the case has fueled Internet rumors and roiled the political waters in China.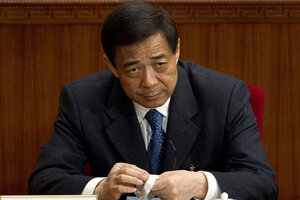 Andy Wong/AP/File
When British businessman Neil Heywood was found dead in his hotel room in the southwestern city of Chongqing in November, the discovery attracted little attention.
Neither the fact that the police said he had died of alcohol poisoning (when he was known to drink only rarely) nor the fact that his body was hastily cremated without an autopsy (unusual in China) – nor the unexplained presence of police at the cremation, appeared to arouse undue suspicion.
Today, suspicion swirls around every aspect of his death, not least because the Chinese authorities now say that the wife of one of China's best-known and most powerful politicians, Bo Xilai, is "highly suspected" of having ordered Mr. Heywood's murder.
Both Mr. Bo and his lawyer wife, Gu Kailai, are currently in detention and under investigation, and have not been seen publicly for more than a month.
Heywood's death and the Bo couple's detention are two of the few indisputable facts in a murky affair whose political ramifications are magnified by Bo's importance: Until scandal overtook him, he was a contender for one of the top nine jobs in the ruling Communist Party. It is clear to anyone familiar with the way Chinese politics works that Bo's enemies have used and amplified the scandal to bring him down.
Almost everything else about the case is speculation based on unidentified sources whose motives in recounting the case's details are unclear. The police have said nothing, and the absence of reliable information has left the field clear for a welter of dramatic rumors, spreading like wildfire on the Chinese equivalent of Twitter, ranging from the type of poison used to kill Heywood to an impending military coup.
---