Seeking Chen Guangcheng's freedom in China via 'Internet meme'
Supporters of the activist lawyer have kept the torch burning for his release using Internet memes: online pieces of content that spread their message without rousing China's infamous censors.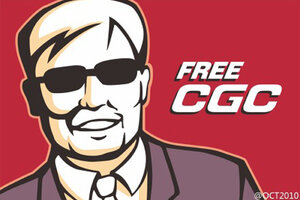 Courtesy of Reuters
Chen Guangcheng's escape from house arrest has caught the attention of China's vast Internet community, despite his name being blocked by the "Great Firewall of China," the nation's Internet censors. The vehicle that sidesteps the censorship? The Internet meme.
"Internet meme" is a term that defies easy definition. Generally speaking, it is an idea or concept that rapidly spreads through the Internet's population, often fueled by a kind of ironic humor. From "lolcats" – cat pictures juxtaposed with misspelled text – to Rickrolling, hundreds of memes exist, with more being created daily by the denizens of the Internet. Indeed, an entire website has been devoted to documenting individual memes' rise and fall.
But the Western English-speaking world does not hold a monopoly on Internet memes; every online sphere has its own collection of memes, including China. And some memes have an added function in China's heavily censored Internet: vehicle for political critique. Design strategist and meme researcher An Xiao Mina, speaking this past weekend at ROFLcon, a convention about Internet memes at MIT in Cambridge, Mass., called them "the street art of the social web."
Guerrilla activism
Overt political criticism remains out-of-bounds for most online Chinese, as automated Internet filtering and alert human censors work to purge sensitive references. But memes allow Chinese Web users to express themselves by using a kind of guerrilla activism – avoiding the keywords that flag the automated filters and disguising political messages such that human censors cannot distinguish them from the overwhelming volume of innocuous online speech.
---