As Okinawa marks 40 years of postwar sovereignty, US bases still an irritant
Okinawa marked the 40th anniversary of its reversion to Japanese sovereignty from US postwar control Tuesday amid political deadlock over the relocation of a key US military base.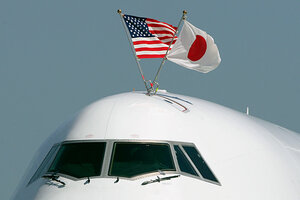 Jonathan Ernst/Reuters/File
It has been exactly 40 years since the United States relinquished its postwar control over Okinawa, but events held Tuesday to mark reversion of the island chain to Japanese control were clouded by questions regarding the future of the continuing US military presence there.
It was significant that the main ceremony, attended by Japanese Prime Minister Yoshihiko Noda, US Ambassador to Tokyo John Roos, local leaders, and hundreds of Okinawan citizens, was held in Ginowan: The city of 95,000 people is also home to Futenma, a Marine Corps air base that has become the focal point of a seemingly intractable dispute over the US military footprint.
A heavy concentration of military bases is Okinawa's legacy of its ideal strategic location and almost three decades spent under US control after World War II. Futenma, by far the most controversial base, draws complaints about noise pollution, accidents, and crime.
Weeks before the reversion anniversary ceremony, the US and Japan appeared to have broken the deadlock over a two-part 2006 agreement. The deal would require Futenma's relocation to a less-populated part of the island and the transfer of about 8,000 troops and their dependents to the US Pacific territory of Guam by 2014.
---