The Chen affair: How it highlighted blind spots in Beijing
Chen Guangcheng arrived in the US Saturday, after fleeing mistreatment by local Chinese officials. The case highlights the central government's imperfect oversight of the provinces.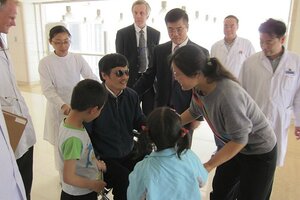 U.S. Embassy Beijing Press Office/AP
Soon after blind legal activist Chen Guangcheng escaped from illegal house arrest late last month, after suffering 19 months of detention and beatings, he issued a dramatic video appeal to Chinese Premier Wen Jiabao.
"Is it just local officials flagrantly violating the law, or do they have the support of the central government?" he asked.
The question highlighted one of the key challenges facing the rulers of the world's most populous nation: how to control what goes on within their enormous country.
"You might think that this is a highly autocratic system where control is effective," says David Lampton, director of China studies at Johns Hopkins University's School of Advanced International Studies, who is writing a book about governance in China. "But that would be a wrong assumption. President Hu Jintao is at the helm, spinning the wheel, but it is not always connected to the rudder."
There seems no doubt that at least some of China's top leaders knew of the treatment to which Mr. Chen was subjected. Even if their own internal channels had failed to inform them, senior US officials raised Chen's case repeatedly with their Chinese counterparts, and foreign media reported his plight widely.
But as officials in Beijing try to sort truth from fiction in the reporting they get from the provinces, follow the media, and send out secret inspection teams to investigate suspected wrongdoing, "you'd be surprised by what they don't know," says Professor Lampton.
---