In China, public outcry softens sentence for Wu Ying
China's Twitter users went wild Tuesday after a court overturned the most controversial death sentence here in recent memory.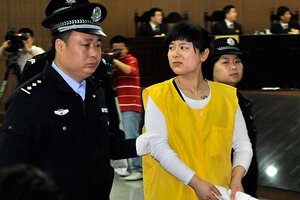 AP
Chinese social media users exploded with delight Tuesday after a court overturned the most controversial death sentence here in recent memory.
Wu Ying, once ranked as China's sixth richest businesswoman, was sentenced to death with a two year reprieve on Monday evening; such sentences are almost always commuted to imprisonment after two years.
The Supreme Court had overturned an original death sentence in April, ordering the High Court in Zhejiang, Ms. Wu's home province, to reconsider its judgment after a huge public outcry. The case has attracted attention as an example of how the Chinese legal system can be influenced by public sentiment.
"Public opinion played a very important role in this case," wrote @Heyu Crisis on Sina Weibo, the Twitter-like social media platform, which had registered more than 3.7 million tweets about Wu Ying by Tuesday afternoon. "This case proves once again that the people's will is truth," declared another user called @Shishi bear.
Previously, Chinese courts have tended to respond to public pressure to impose a death penalty, often in especially brutal murder cases, rather than to pressure to reverse it. Wu's is a rare case of the Chinese public demanding clemency.
Wu had been convicted, and sentenced to death, by the Zhejiang court for having illegally raised $120 million in loans from private investors whom she failed to repay when her business collapsed.
She won widespread public sympathy – not only because she had shown remarkable entrepreneurial zeal in parlaying a single hairdressing salon into one of the largest private firms in China but also because her plight underlined how hard it is for private businesspeople here to raise funds through official channels. Chinese banks favor state owned enterprises, forcing millions of ordinary businesses to turn to illegal private sources of capital.
---