China's evolving relationship with 'barbarians'
China, which used to officially refer to foreigners as 'barbarians,' has a long history of xenophobia. The issue is at the forefront again after two high-profile incidents with foreigners.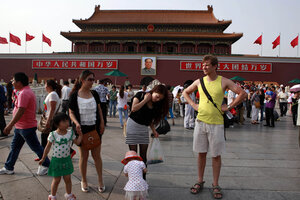 Ng Han Guan/AP
The question of how the Chinese view outsiders has been a vexed one for centuries, dating back well before 1858 when, under the Treaty of Tianjin, the victorious British forbade the Chinese government to refer to foreigners in its official documents as "barbarians."
And the issue has raised its head here again in recent days, in the wake of two ugly incidents in which foreigners behaved like, well, barbarians.
Both were filmed by witnesses with camera-phones, and the videos went viral on the Chinese web (they were also aired on state-run TV), sparking widespread outrage. In the first, a drunken young Englishman appears to sexually molest a Chinese woman and is then beaten and kicked by bystanders; in the second a Russian man on a train puts his bare feet on the top of the seat in front of him, and responds to complaints from the woman occupying the seat with a torrent of abuse.
How well do you know China? Take our quiz
Not long after these videos came to light the Beijing police launched a "strike hard campaign" to expel foreigners without the correct visas, work permits, or residence permits, urging Chinese citizens to inform on suspected illegals. Matters got really out of hand when a prominent talk show host on state-run TV posted a vitriolic xenophobic rant on Sina Weibo, a popular Twitter-like social media platform.
Supporting the police campaign, Yang Rui said he hoped it would "clean out the foreign trash," urging the authorities to "cut off foreign snake heads." Foreign spies "seek out Chinese girls to mask their espionage" he charged, and he crowed that "we kicked out that foreign [expletive]" Melissa Chan, the Al Jazeera correspondent expelled from China last month. "We should shut up those who demonize China and send them packing," he concluded.
---