Another sign of Myanmar reform? Aung San Suu Kyi's visit to Thailand.
Nobel Peace Prize winner Aung San Suu Kyi was welcomed in Thailand on Wednesday by crowds of migrant workers from Myanmar waiting to catch even a glimpse of her.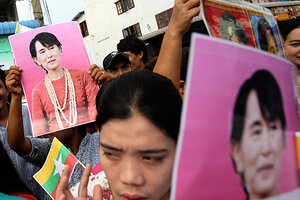 Sakchai Lalit/AP
Making her first trip outside Myanmar in almost a quarter-century, opposition leader Aung San Suu Kyi spoke with impoverished Myanmar migrant workers in neighboring Thailand today.
Ms. Aung San Suu Kyi is in Thailand to address the World Economic Forum (WEF) and to meet some of the 2-3 million Myanmar nationals living in the country, around 140,000 of whom are refugees who fled decades of fighting in jungle borderlands.
Aung San Suu Kyi's visit is another sign that Myanmar's recent reforms will continue, according to analysts. Changes such as the staging of free and fair by-elections, which were won in a landslide by Aung San Suu Kyi's National League for Democracy (NLD) in April, have prompted a relaxation or suspension of Western sanctions and raised hopes of increased investment in the once-hermetic country.
Aung San Suu Kyi's willingness to travel is "a signal that she thinks things have changed enough that she can tour, speak freely, and return to Burma safely," says Walter Lohman, Asia analyst at the Heritage Foundation.
The 1991 Nobel peace laureate and newly-elected MP famously spent 15 years under house arrest in Myanmar, before being freed in November 2010. She famously refused to leave Myanmar in the 1990s, during her house arrest, even to be with her dying husband in Britain, as she feared the country's army rulers would not allow her return to continue her pro-democracy activism.
---