As Sony struggles, many see cautionary tale for Japan
Sony, whose Walkman music players once epitomized Japanese innovation, hasn't turned a profit since 2008. Many worry Sony represents a bigger problem with rigidity in Japan.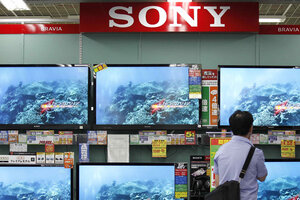 Kim Kyung-Hoon/REUTERS
When Sony announced some $6 billion in losses in May along with plans to cut 10,000 jobs, it wasn't taken here simply as evidence of an iconic electronic titan in trouble. To many Japanese, it symbolized a larger problem: a society clinging to outmoded ways and rigid seniority in a world where rewards increasingly go to the entrepreneurial.
That Sony would prompt such a reaction is riddled with irony. In the mid-1980s, Sony revolutionized people's relationship to their music with the introduction of the Walkman. The epitome of cool, it nearly banished boom boxes from the streets and became a darling of runners.
"It's a systemic issue, and Sony exemplifies Japan as a whole," says William Saito, a venture capitalist and council member on national strategy and policy at the Japanese government's National Policy Unit. Mr. Saito believes that Japan has failed to adapt to its shrinking and aging population, and instead clings to the belief that success can come from focusing on the domestic market.
Too many Japanese firms "are seniority-based, where the ideas of globally connected people are not realized," Saito says. "When the domestic market was enough, that was OK, but not now."
Joi Ito, an entrepreneur and director of MIT's Media Lab in Cambridge, says Japanese firms need to rip up their centrally designed plans and "embrace serendipity."
---