East Timor's second major transition since independence
East Timor held peaceful elections this weekend, and is set to form a coalition government that helps transform one of the poorest Asian countries to a middle-income country by 2030.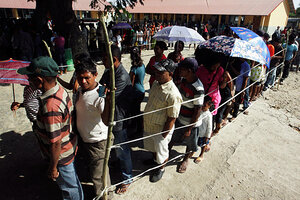 Lirio Da Fonseca/Reuters
The party of East Timor's prime minister won the majority of seats this weekend in peaceful parliamentary elections, paving the way for him to form another coalition government as the country faces its second major transition a decade after independence.
The elections come at an important juncture for the impoverished half-island country, which celebrated its 10th birthday May 20. The United Nations mission and police are slated to withdraw by 2013, by which time Australian and New Zealand troops who have been stationed there on a separate peacekeeping mission will have departed. These changes will leave the young democracy standing on its own feet, and perhaps in a better position to pursue its goal of joining the regional bloc known as ASEAN, or the Association of Southeast Asian Nations.
"The next five years are crucial for us," says former President Jose Ramos-Horta.
The economic stakes are high. The Timorese people are among the poorest in Asia, but the country has ambitious plans to become a middle-income country by 2030.
The country has recently accrued $10 billion to $11 billion in oil and gas revenue, but relies on one field called Bayu Undan – which could run dry as early as 2024 – for some 90 percent of spending. In 2010 East Timor had only $17 million in nonenergy exports to its name, a signal of just how dependent the government is on its oil revenue.
---