In Foxconn's iPad factory, a window on Chinese hopes - and frustrations
Underneath China's economic strides, Foxconn's iPad factory shows its labor market remains rooted in tough conditions and low wages, even as workers aim to improve their lot in life.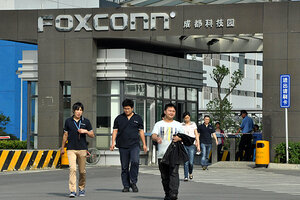 Reuters
Invitations to the conference in Chengdu promised "China's New Future," with the country's name spelled out in large gold letters. Mayor Ge Honglin, wearing a nicely tailored black suit, assured the audience sitting beneath rows of bright chandeliers that the regional market will grow "bigger and bigger."
Throughout the afternoon, business executives repeated economic plans as mantra: Research and development! High-tech manufacturing! Alternative energy!
For all the enthusiasm offered by Mayor Ge and his guests, prominent local employer Foxconn Technology Group received little mention at the day's press events. Even the spot in a promotional video boasting that more than half the world's iPads are manufactured in Chengdu didn't name Foxconn as having churned them out.
The lack of appetite for open discussion about the Taiwanese electronics firm – with its reputation as a 21st-century sweatshop where workers leap off rooftops – wasn't surprising.
In Chengdu and other cities across the country, companies such as Foxconn are a reminder of the complexities facing Chinese Communist Party efforts to promote quality of life, household spending and, ultimately, social stability. Underneath China's great economic strides, its labor market remains rooted in tough conditions and wages that have risen but remain relatively low.
Workers at Foxconn described a strictly regimented and depersonalized environment. It's a life spent sitting mutely at assembly lines, they said, then shuffling back home to towering, cramped apartment buildings monitored by guards.
---